Custom CMS vs Open Sourced CMS
A custom CMS is like getting a custom suit tailored, from scratch. When working with your trusted tailor, you know that when he has finished his work, your suit is going to fit perfectly. Using a free, open-sourced CMS is like buying a new suit, and then having it adjusted to fit your unique body. It still fits, and may look good, but it's just not the same. The pockets might be a little low, shoulders a little tight, fabric may be bulging on the waist.
Custom CMS vs the free platform. Let us look at the differences in; Speed, Stability, Security, Cost, and Flexibility.
Speed
Working with open-sourced platforms will provide you with the tools you need to succeed, and a whole bunch more that you do not. This excess can increase database calls, slowing down page loads, site navigation and various dynamic processes. With the user base you envision for the project, speed needs to be optimized. A custom fitted CMS allows us to optimize the speed of your website. We will build you exactly what you need, avoiding anything extra that can get in the way.
Stability
We hope to work with you during the life cycle of your business, and like your family doctor, the more we know the easier it is for us to provide advice, tune-ups and new additions to the system. Working with Wordpress will give you access to the largest plugin library for a single platform. 100's are added each week. At this volume, how can you predict the ones that are going to last? How do you know the developer won't disappear in 12 months, leaving you with no support? How can you ensure that Plugin A is compatible with Plugin B, when you connect Plugin C to the mix? How do you know if a future mandatory Wordpress update will work with these plug ins, or disable them? Unless you hired a firm like Inchol Solutions to develop a custom web system, with custom plug-ins, none of this is guaranteed. Having 1 solid development team, will enable everything to work together in perfect harmony. This will also allow you to get support directly from a consistent and reliable source (the actual developers).
Security
There are a huge amount of open source options out there, one factor that most businesses do not understand about these tools is that they commonly get hacked. The reasons for this is that hackers have access to the original source code, and this makes it easier for them to take advantage of anything they may find in the code. Besides the basic issue that your are at a greater risk, it is also important to understand that we, Inchol Solution, are not responsible for any security holes that this software may have - after all, the software was not created by us. With a custom framework and CMS, your websites security is our full responsibility. Our team of developers are constantly monitoring and addressing security risks. You automatically get these updates for free. These updates are guaranteed to work with your any plug ins connected to the website.
Cost
Although Open Source Solutions may initially be cheaper, one must weigh up the long term effects of choosing this as a solution. Technology is changing at such a rapid rate, that most business owners are finding that they are having to update their website every 2-3 years. Occasionally, these updates can be mandatory. In the case of open source solutions, this typically means either paying someone to upgrade your version of the product (if it is even still in development) or starting from scratch. It also means that older plugins may become obsolete, producing 'holes' in your system. Inchol Solution's clients on the other hand receive updates and upgrades at no extra cost. We re-invest heavily into our website tools, to ensure their clients are at the forefront of website technology. Although 'free' open sourced platforms may seem cheaper now, it is important to way up the long term costs.
Flexibility
Having a complete understanding of the make-up of your framework allows us to do anything with it. We own it, and we can do what we want with it. This just isn't the case with Wordpress, Joomla and Drupal.
A website project of your scope needs to optimize it's speed, security and development flexibility. Launching a new venture requires an in-depth analysis of expendures, budget and cost control. In order to achieve success, you need to for-cast the present and future impact of your decisions today. Our custom framework and CMS, provides a solution the address each one of your needs.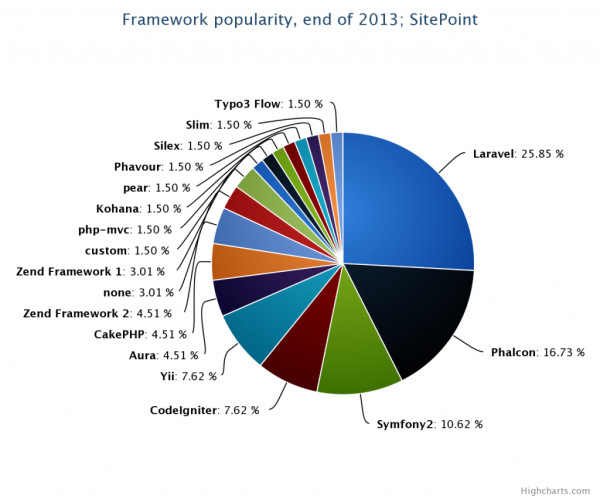 Graphic source: sitepoint.com
Last updated 12. April 2014 04:15 CET